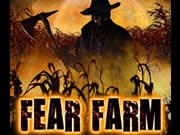 2209 N. 99th Avenue
Phoenix, AZ
Haunted Hayride: New for fall 2016 is Phoenix's only haunted hayride! Nestled among 10-acres of corn, this attraction provides guests with the sounds and smells of autumn air from (what should be) the safety of specially-designed trailers meant to protect them from terrifying legendary creatures called Wendigo-- impossibly thin, evil spirits of Native American legend with an intense craving for human flesh. Building this hayride may have disturbed Wendigo burial grounds and, some experts suggest, created an atmosphere sure to create a frightening experience for guests hoping to enjoy a nighttime ride through the cornfields. Only $10 added to your Fear Farm admission.
Legends: Goatman: The Goatman is a mythical legend of a half man half goat that terrorizes locations across the United States. Extremely territorial and ferocious, he does not welcome intruders into his domain... and you've found yourself right in the middle of it! He is thought to be a shapeshifter, taking on many forms, he fiercely protects his area and punishes all those who enter. The blood of the souls he takes makes him stronger and only fuels his fire to ravish more. He has inspired both fear and fascination for decades, so much so that he has attracted a group of cult-like followers who carry on the Legend and assist him in all of his fateful endeavors.
Undead: It started with a flash in the sky and a loud crash. What looked like a comet was, in fact, an alien craft crash landing in the cemetery. The aliens slowly came out of the wreckage, only to be slaughtered by the soldiers who came to investigate. What the soldiers didn't know as they dragged the bodies away to their Bunker, was that the blood from the aliens would seep through the ground and disturb the corpses, waking them from their peaceful resting place. Now the Undead walk among us, terrorizing anyone and everyone in their path.
The Bunker: Invasion: On March 13, 1997, a string of glowing orbs hovered over the Phoenix skies, securing Arizona's place in international UFO lore. But these lights were not just a mere sighting or mass hysteria. No. Kept secret by top government officials was the truth: an alien aircraft had landed on Earth and it most definitely did not "come in peace." The eerie alien beings wandered the area and, without leaving a trace of evidence, abducted dozens of vulnerable people and took them to a research facility created in an old bunker – where they began inhumane testing with nightmarish results. Twenty years later, the testing continues and no one dares attempts to rescue the victims. Always in search of new test subjects, the alien beasts are on the hunt. Who will be their next experiment?
Mouth of Madness: Some people think clowns are funny. You are not those people. As soon as you step out of your car, you'll hear the bratty laughter and taunts of Tremmors and Flinch, two clowns that once appeared on local Saturday morning TV, but now run amuck - dragging people into their psychotic state of tormenting and cruelty. No one knows what broke the spirit of Tremmors and Flinch and turned them evil, but something sinister is surely at play. Maybe you will find the answer on the Fear Farm. OR maybe you will drown in your own tears of fear.
Slaughterhouse: Rumors swirl around one family living in what was once Phoenix, Arizona, with locals claiming that they have made a deal with a madman, who some call the devil himself. In exchange for sparing their lives, the Slidell family has agreed to herd and slaughter fellow humans to supply this nameless soul reaper, with the flesh he craves. Word has it that the screams and gurgling heard amidst the roars of chainsaws at Slidell Family Slaughterhouse are actually from human livestock. Sitting atop a mass grave of badly decomposing "leftovers," an unanticipated side effect has made matters worse, the Slaughterhouse has become a feeding ground each night as the local Undead are drawn to the thick stench of rotting flesh.
Email Haunt Owner
All photos and videos within this listing are the property of Fear Farm
GENERAL LOCATION 3/4 mile south of Thomas on 99th Avenue 1/4 mile north of McDowell on 99th Avenue DRIVING DIRECTIONS FROM NORTH: South on the 101 to McDowell; Exit at McDowell; west about 1/4 mile to 99th Ave; North on 99th Ave | about 1/4 mile. FROM EAST & SOUTH: West on the I-10 to 99th Avenue; north on 99th Avenue approximately 1/2 mile on the right. FROM WEST: East on the I-10 to 99th Avenue; north on 99th Avenue approximately 1/2 mile on the right.
Email Verified

Good scares

If you're looking to get scared just buy a regular general admission ticket. The general ticket gets you all the good stuff, the haunted hayride isn't even worth the line or the 10 dollars, might as well buy a fast pass with that money. But if you do go I recommend slaughterhouse that was the best maze there.

| | |
| --- | --- |
| Scare Factor: | |
| Fun Factor: | |
| Haunt Value: | |

Posted 10/15/16

Email Verified

Really cool haunts

This is a huge bang for your buck! There is a corn maze that is 100% in the dark, a hayride (which was a little spooky but fun goofy Halloween fun) and so many haunted house events! We did all of them, spent plenty of time at Fear Farm and enjoyed all of it. Some of the attractions can be pretty loud would be our only warning. Personally the goat man haunt was my favorite, but all of them had so much attention to layout, decorations and the actors knew what they were doing. The zombie attraction was immersive, not only were the zombies after you, but they had human actors that were chased down and eaten. It was really awesome. Fear Farm also had a really fun atmosphere, plenty of seating between haunts and plenty of drinks and food for sale. Only catch is that they only take cash for food and drink, but they do have an ATM there for you. All in all, we were really happy with our experience.

Scare Factor:
Fun Factor:
Haunt Value:
Length of Event:
> 1 hour
Time Visited:
After 9PM
Would Recommend:
Yes
Suitable For Kids:
Unsure

Posted 10/13/16

3 out of 4 found this review helpful

It was awesome, but could've done better.

It wasn't as good as their past years honestly, and This year disappointed me. Some of the actors they have have really poor acting and it kills the mood a bit. The makeup the actors have seems too unrealistic. I really like the themes and set ups they have for the mazes though. The lighting and set the mazes have is what I loved the most, especially on Mouth of Madness. They've done better the past years and I'm sure they can make it better. The music they play also kills the mood a bit. They used to play scary background noises or metal outside the mazes while you waited in line, now all they play is pop or upbeat party music. The only actors that did scare me were the main Fear Farm clowns and some of the actors outside the mazes. Those were the only ones that seemed realistic and scary. I will be coming back next year though and I hope its better.

| | |
| --- | --- |
| Scare Factor: | |
| Fun Factor: | |
| Haunt Value: | |
| Time Visited: | 5PM - 9PM |
| Would Recommend: | Unsure |
| Suitable For Kids: | Yes |

Posted 10/19/15

3 out of 4 found this review helpful

Had a lot of fun!

I've been to Rob Zombie, 13 Floors & Scream Factory and this was the only one that offered more scare and caused me to jump more than once. I have to say the characters played there parts very well! I even enjoy seeing them dance among the people and you could also take pictures with them without a question. I do however have to cons. The lines were ridiculously long. I had to buy a fast pass which was worth it but something I don't think should be needed. And I do believe there should be a long wait time to get into a haunted house. I hate when I see what's coming. Other than that great haunted house and I have to give it up to the actors. Outstanding job!

Posted 10/28/14

3 out of 4 found this review helpful

loved it

super scary will go back before season is over

Posted 9/17/13

0 out of 2 found this review helpful
All information on this page was submitted to Arizona Haunted Houses and was believed to be accurate at the time it was posted. Please report any inaccuracies
here
.