About AZHauntedHouses.com - Your Guide to Halloween in Arizona
Since 2012, the AZHauntedHouses.com Team has been dedicated to helping locals find unique, exciting, and of course spooky haunts located in Arizona, which is how we've grown to become one of Arizona's largest local Halloween websites.

Looking for a good scare? If you're in Arizona, then you've come to the right place! AZHauntedHouses.com is the place to find all the best haunted houses, corn mazes, and Halloween happenings in Arizona – helping you, your friends and family get the most out of the season. Whether you're looking for family friendly fun such as pumpkin picking or kid-friendly events for the little ghouls, or you and your friends are looking to spend a night filled with fright, AZHauntedHouses.com has the scoop on all the haunts in your area, as well as comprehensives details including Fright Factor, days & hours of operation, cost, and more. If you're ready to make this October the best Halloween Season yet, then AZHauntedHouses.com is your one stop shop – we've got everything Haunt Seekers need to have a scary good time!

With Halloween season right around the corner, AZHauntedHouses.com will ensure that you're the first of your friends to know about the hottest haunts and spooky good times happening in the area. Whether you're looking to enjoy a night filled with thrills and chills, a happenin' Halloween party, or something a bit more family friendly – we've got Arizona covered, and can keep you in-the-know and up to date on all of the latest local happenings. We've even got the low down on all of the local houses in the area that are decked out for Halloween, and the home haunts that local enthusiasts have set up for the season.

Are you a local haunt owner in Arizona, looking to attract more haunt-seekers to your attraction this season? Then you won't want to miss the opportunity to be listed on AZHauntedHouses.com for 2016! For more information on the different options available, please visit our Advertising Page, or give us a call at 888-228-5265, and someone from the AZHauntedHouses.com team can help you get listed!

If you want to become an affiliate or have any other inquiries please feel free to contact us.
Associations
AZHauntedHouses.com is proud to be a member of the following organizations: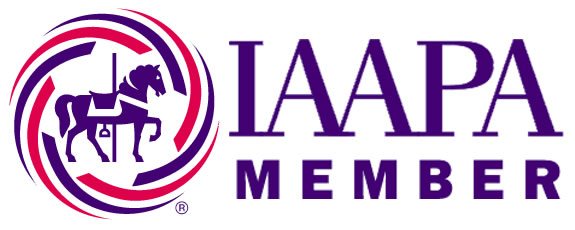 Media Partners
Over the years, AZHauntedHouses.com has built a reputation as a trusted resource for all things haunted, and numerous local area news outlets (including the Phoenix Business Journal & Your Phoenix), entertainment websites, and online & print fun guides use our data as their official Haunted House Guide & Search Engine. If you are affiliated with a radio station, newspaper, magazine or other Arizona publication with a substantial following, we may be interested in adding you to our growing list of media partners. Please contact our Content Director, Cait Russell, at 888-228-5265 ext. 856 or email us to find more about our Media Sponsorship Opportunities!
What Our Clients Are Saying
AZHauntedHouses.com is dedicated to helping local haunts across Arizona have successful a Halloween Season, and continue to grow. Whether it's your first season or your thirtieth, Arizona Haunted Houses can help you make this your best season yet - here's what some of our clients have to say about working with us:
AZHauntedHouses.com has been a valuable resource for Sanctum of Horror. Every year we ask our customers how they heard about us, and a majority of the time they say AZHauntedHouses.com. Their team of content managers helped us every step of the way in developing our image on their browser.

On several occasions we needed additional information or instructional how-to, and they were always willing to guide us through the process. Anyone wanting to put his or her haunt on the map would benefit from using AZHauntedHouses.com. - Shawn Kaul, Owner, Sanctum of Horror, Mesa, AZ. Client Since 2013.
Contact Us
General Questions, Comments & Feedback - Call 888-228-5265, send us an email, or fill out our contact form to get in touch!
Submit a News Story - Have an idea for a Halloween or Haunt-related story or a news tip? Let us know!
Submit a Press Release - Have big news to share? Email us your Press Release to get the word out.

Partnership Opportunities - Need help getting the word out about an upcoming special event, charity, or organization? Email us about our Media Partnership Program!

Advertising Information - Have a local Haunt or Halloween Attraction? Click here for info on Advertising on AZHauntedHouses.com.
Technical Issues & Inquiries - To report a broken link, outdated event, or incorrect information, click here.

Arizona's Halloween Entertainment Guide™
More Info: