Share Some Scares by Working at an Arizona Haunted Attraction this Halloween Season
Home » Blog » AZHauntedHouses.com News and Updates, Arizona Haunt News
August 24, 2016 By Chelsea T.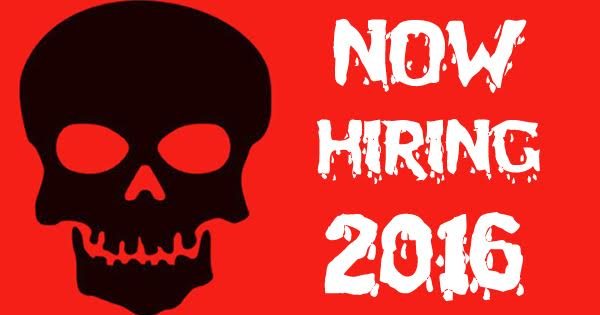 The Halloween Season will be arriving quite soon and Haunted Attractions all throughout Arizona are in the process of preparing for their 2016 opening night. While working hard to create a terrifying haunt, employees are needed to assure all goes smoothly during the Haunting Season.

There are a bunch of positions open, ranging from scare actors who have the opportunity to get face to face with visitors, to behind the scenes workers including makeup artists, security guards, parking lot attendants, cashiers, concession workers and more. If you're interested in joining a haunt family for the 2016 Halloween Season, check out the list of local Haunted Attractions below and reach out today!
13th Floor Haunted House
2814 W. Bell Rd., Ste. 1430, Phoenix, AZ 85053
602-456-2250
Fear Farm
2209 N. 99th Ave., Phoenix, AZ 85037
602-344-9615 | info@fearfarm.com
Note: Applicants must be 16 years or older.

Nightfall at Old Tucson
201 S. Kinney Rd., Tucson, AZ 85735
520-883-0100

Sanctum of Horror
6555 E. Southern Ave., Mesa, AZ 85206
480-200-8163

Terror in the Corn
17000 W. Ajo Way, Tucson, AZ 85735
520-822-2277
The Crypt Haunted Attractions
1550 S. Alma School Rd., Mesa, AZ 85202
480-332-8095 | info@crypticillusions.com

Yuma Nightmares
15485 S. Avenue 4E. Yuma, AZ 85365
Contact Rebecca: 928-304-2711
Note: Must be 16 years or older to apply.
Is Your Haunt Hiring for 2016? Let Us Know!