Haunted Places Across Arizona That Will Make You Believe in Ghosts Instantly
Home » Blog » Paranormal Headlines, Halloween Headlines, Real Haunted Places
November 14, 2017 By Cait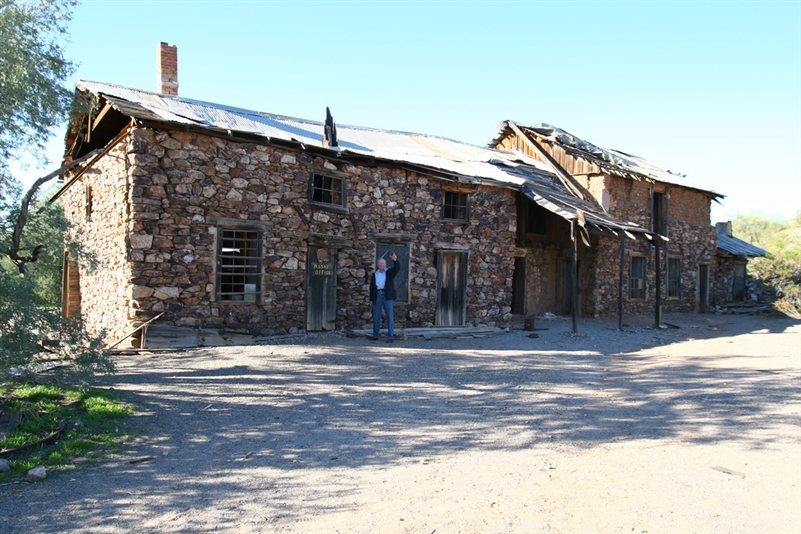 The old Vulture Gold Mine is believed to be a hotbed of haunted activity.
Photo by:
Right Brain Photography, via Flickr. (CC BY-NC-ND 2.0)
Whether or not you believe in ghosts, you can't deny that Arizona's got some seriously eerie haunted history and urban legends. Across the state, there are a ton of places where locals have reported ghostly encounters, spirit sightings, and all sorts of paranormal activity. Whether or not you're convinced that ghosts exist, there's no denying that the state's haunted history sure does make you wonder.
Not yet convinced? Check out these iconic haunted places across Arizona, and you'll be left without a doubt that there are spirits here among us in AZ!
The Bird Cage Theatre - Tombstone, AZ - The Birdcage Theatre has a sordid history - it was a saloon, gambling establishment, and even a brothel, and at least sixteen fatal shootouts took place on the now-theatre's property. With such a dramatic, action-packed history, it's no wonder that The Bird Cage Theatre is a known hot-spot for paranormal activity. In fact, the theatr'res haunted history is so notorious it's even been featured on the Travel Channel, since the establishments that previously inhabited the theater are essentially Wild West icons.

One of the most well-known murders in all of Tombstone, AZ took place in The Bird Cage's Bar - legend has it, that Billy Milgreen, a high-stakes gambler, was flirting with two of the lovely ladies from the brothel - Gold Dollar, and Margarita. When Gold Dollar, who regularly entertained Billy, found out that he was spending time with Ms. Margarita, she viciously killed her. Despite the grizzly murder, and the fact that Gold Dollar was apprehended, no charges were ever filed, since the murder weapon was never found. Over 100 years later, the stiletto knife used to kill Margarita was found, and it's currently displayed at the theater.

Over the years, theater patrons and employees have reported seeing the spirits of countless ladies of the night, as well as men in cowboy hats. In fact, there's so many spirit sightings that there are daily ghost tours available at this real haunt.


Jerome Grand Hotel - Jerome, AZ - Originally a hospital where local miners were taken for treatment of injuries and mental illness, known as United Verde Hospital. In the 1990s, the hospital was converted into what's now known as the Jerome Grand Hotel, and countless guests have claimed to have seen apparitions, presumed to be patients trapped in the former hospital's walls, and some have even reported hearing blood curdling screams in the hallways of this haunted hospital-turned-hotel. Are you brave enough to spend the night?


Thornton Road Domes - Casa Grande, AZ - Ghosts, or aliens, you might be wondering. These UFO shaped buildings were built off of Interstate 8 decades ago as what might be the most uniquely shaped "office space" in the country, and they've been abandoned since at least the 1980s. Because of their unique design, the domes have become somewhat of a roadside attraction - a popular destination for photgraphers, graffiti artists, and travelers, who have reported all sorts of strange happenings at the weird abandoned buildings.

Visitors have reported seeing shadowy figures, hearing tapping on their car windows as they drive by as well as hearing inexplicable shuffling noises, and there have even been reports of visitors feeling an "eerie presence" nearby.


Vulture Gold Mine - Wickenburg, AZ - The Vulture Mines are known the world over for being haunted, and they've been visited by a variety of paranormal investigators over the years. The mines, which were a gold prospector's well, goldmine, in the 1880s was visited a few years ago by the crew from Travel Channel's

"Ghost Adventures"

, and the cast encountered all sorts of spooky happenings, including having apparitions tell them to "Get Out", and warn that "You're Gonna Die", and they even had rocks pelted at them by ghostly figures. It seems like you're more likely to find ghosts than gold in this old mine, nowadays.
Have You Visited Any of Arizona's Real Haunts? Share Your Experiences in the Comments Below!