Hotel Congress Kicks Off Spine-Chilling Events for Halloween in October
Home » Blog » Arizona's Best Weekend Events, Arizona's Local Halloween Fun Guide, Arizona Haunts: An In Depth Look, Halloween Headlines
October 5, 2015 By Wendy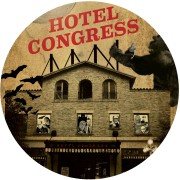 Photo by:
The Hotel Congress
The landmark historic hotel in Downtown Tucson – Hotel Congress – has kicked off its Halloween programs for the month of October. They've got Voodoo & Black Magic, Nightmare of Congress and a Halloween party all planned to welcome in the Halloween season.
Voodoo & Black Magic offers you an evening of mystery and it'll keep you intrigued as the spirits of The Hidden Room of Congress are evoked and expelled. Back in 1934 a fire severely damaged the hotel, but oddly and the Hidden Room of Congress was left unharmed. Back-to-back nightly showtimes are available Thursday's & Friday's in October. Tickets are $15 at the door and the show runs 45-minutes with a limit of 30 guests. Guests must be 21+ to attend.


2015 Halloweekend offers 48 hours of insanity at the Hotel Congress with a $2,000 cash costume contest. Day 1 (Oct. 30) features music performances by Prom Body, Altrice, Headlock, Hikikomori, Get A Grip, The Jons, The Mission Creeps, DBUK, DJ Ripdee and DJ Dirtyverbs. Day 2 (Oct. 31) features music performances by Tucson's favorite DJ's Sid The Kid, Bob Felix, Andrew Shuta and Jalph. Tickets are $7 in advance or $9 at the door each night. Must be 21+ to attend.
Are you ready for Halloween at Hotel Congress?