2022 Question and Answer With House of Haunts
Home » Blog » Arizona Haunts: An In Depth Look
October 7, 2022 By Haunt News & Press Releases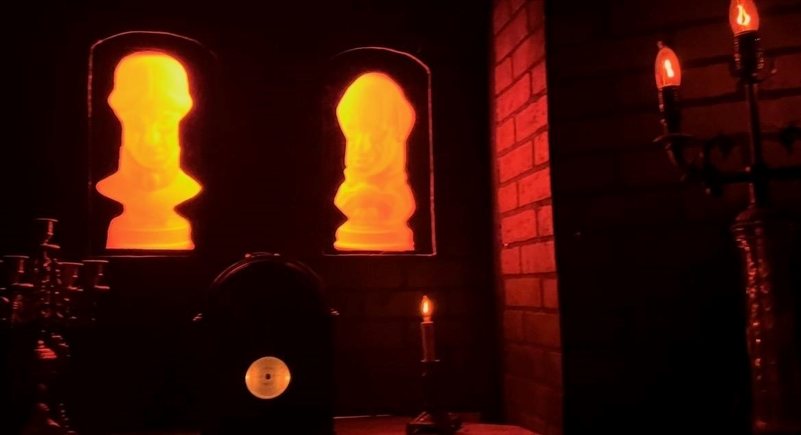 Haunted Mansion Line Queue Busts
AZHauntedHouses.com recently sat down with Caitlyn Birkett of House of Haunts, to discuss what's new at House of Haunts for the 2022 Halloween Season!
What's new at House of Haunts for 2022? Do you have any new rides, attractions, or special features that Haunt Seekers should know about?
We always make changes and add new elements to our haunt every year, but we keep them a surprise! So come check out the new additions!
What differentiates House of Haunts from other local haunts in Arizona?
Our haunt is very much based on illusion. There are lots of disorienting and dark spaces that make you question if your eyes are playing tricks on you!
How long has House of Haunts been in business? Can you tell us a bit more about House of Haunts' history?
Steve started his love of Halloween in 1983 at the age of 14 with a small yard display at his childhood home. Once he owned his own home in 1997, he started the House of Haunts and has been doing it every year since!
How long is a typical haunt experience at House of Haunts from start to finish?
The walk-thru haunt takes anywhere from 8-10 mins to complete.
Can House of Haunts accommodate large groups? How many people can experience House of Haunts together as a group?
We can accommodate large groups, but we cap each group that enters to 6 max at a time for your safety!
Anything else you'd like to let us know about House of Haunts?
Those who enter must be free of any medical conditions including health, physical, or psychological limitations. Do not enter if you have any of these conditions or personal reservations.