Our Favorite Stephen King Horror Movies for Binge Watching
Home » Blog » Halloween's Hottest Trends, Halloween Headlines
November 9, 2017 By Cait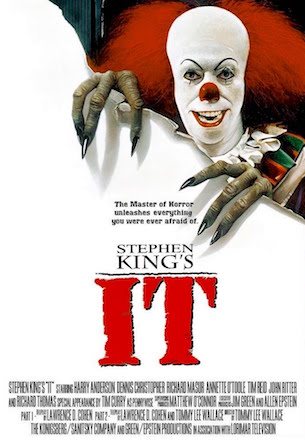 Even with a new "IT" Movie in theaters, we can't get enough of the original "IT" mini series, starring Tim Curry.
Photo by:
Warner Bros. Television, via WikiCommons.
When it comes to horror movies, there's one man who rules them all. I bet you can guess who that is without even reading further (even if you didn't already read the title of this article). That's right, it's Stephen King. The king of horror himself, King has penned numerous iconic thriller novels that have been turned into amazing, terrifying, and spectacular horror films for decades, and with the new "IT" movie being a smash hit this year, there's no sign that Stephen King will be slowing down anytime soon.
If you're not well-versed in all of Stephen King's best horror flicks, then it's time for you to get ready for a fear-filled night of movie binging! Here are some of our favorite Stephen King Cult Classics that should be on your must-watch list:
Misery (1990) - What a wild movie this one is. While it isn't a heart pounding action-driven film,

"Misery"

is its own special kind of horror movie. Kathy Bates plays a deranged nurse, Annie Wilkes who is an obsessed fan of fictional author Paul Sheldon (played by James Caan), and when he kills off her favorite romance novel character, she entraps him, and holds him hostage while he writes a new book to "right the wrong" of killing off Annie's favorite literary character, aptly named Misery Chastain. This psychological thriller is a must-watch, and even earned Ms. Bates an Academy Award for Best Actress, and it's easily one of the most memorable of King's psychological thrillers that has graced the silver screen.


Carrie (1976) - Did you know that

"Carrie"

was the first film/television adaptations of a Stephen King novel? It could be said that

"Carrie"

is the one that started it all, and with good reason. This movie has it all - a poor bullied girl with supernatural powers, the mean prom queen getting what's coming to her, and revenge of epic proportions by the poor little girl that's been bullied and tortured her whole life. This movie also garnered lots of praise, earning two Academy Award nods - one for Sissy Spacek, who played Carrie White, and one for Piper Laurie, who played Carrie's deranged and abusive, religious-fanatic mother, Margaret.


1408 (2007) - A newer film based on one of Stephen King's short stories, this was one creepy horror flick, starring John Cusack and Samuel L. Jackson. The film follows the story of author Mike Enslin (played by Cusack), as he investigates real haunted places, including room 1408 at a NYC hotel, which is believed to be truly haunted. Although Enslin goes into room 1408 a cynical skeptic, that all changes when the room seems to take on a life of its own. There were actually multiple endings filmed for this movie, with the original one being scrapped for being too much "of a downer". Different versions of the film's ending are available on a wide variety of streaming services across the globe - we won't spoil it for you.


Pet Sematary (1989) - What could be creepier than a haunted pet cemetery behind your new home in Stephen King's home state of Maine? Pretty much nothing, except for the fact that the entire town seems to know and acknowledge that there's something very, very wrong happening at said cemetery. So why would you bury your beloved pet cat at a haunted pet cemetery, or even bury a person there once your pet cat came back to life as a deranged version of itself? Not wise choices, but definitely a good choice for a horror night-in.


IT (The 1990 TV Mini Series) - While undoubtedly Stephen King fans will want to check out the newest theatrical release of

"IT"

, we wanted to give props to the

"IT"

tv mini series that absolutely terrified 90s kids, and probably still does to this day. If Tim Curry as Pennywise the Clown doesn't give you nightmares, than I frankly don't know what will. This mini-series was absolutely epic, and even King himself was impressed with how the directors and producers were able to get a book of over 1,000 pages developed into a made-for-tv mini series.
Though we've just scratched the surface when it comes to Stephen King movies, these are some of our all-time faves, and this should get you well on your way to a good binge-watch movie night with some brave friends.
What's Your Favorite Stephen King Horror Movie? Let Us Know in the Comments Below!