Sanctum of Horror to Deliver Another Season of Terror in 2017!
Home » Blog » Arizona Haunts: An In Depth Look, AZHauntedHouses.com News and Updates, Halloween Headlines
July 31, 2017 By Haunt News & Press Releases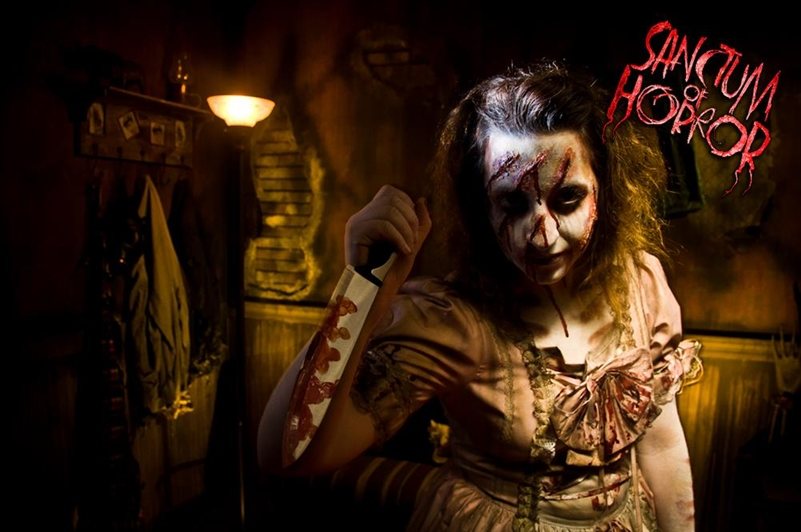 AZHauntedHouses.com recently sat down with Shawn Kaul of Sanctum of Horror, to discuss what's new at Sanctum of Horror for the 2017 Halloween Season! Located in Mesa, Sanctum of Horror features two terrifying haunted attractions at one great location.
Thrill-seeking visitors will be forced to venture through the mine of Lenore, and descend into her very worst nightmares, while reliving her tragic past of madness and murder! Do you have what it takes to brave Sanctum of Horror this Halloween Season?
What's new at Sanctum of Horror for 2017? Do you have any new rides, attractions, or special features that Haunt Seekers should know about?
Sanctum of Horror is excited to unveil all of our new scares for the 2017 Haunt Season. We have created new room layouts for almost every set in both of our haunts, and the main goal is to disorient our guests. As people walk through the maze, we want them to feel lost and immersed in the scene. We want to bring our creatures up close and personal to give everyone the best haunt experience we can!
What are you most excited about for the 2017 Halloween Season?
We are so thrilled and humbled to be rated the #1 Haunted Attraction in Arizona for 2016 by AZhauntedhouses.com. We are excited to live up to that title this year, by bringing all new scares and keeping the hype going for the 2017 season.
What differentiates Sanctum of Horror from other local haunts in Arizona?
Our biggest focus at Sanctum of Horror is detail. You won't find another open-air haunt as detailed and immersive as Sanctum and The Breach. We put countless hours into distressing sets, finding the perfect props and decor, and setting the mood with audio and lighting special effects. We want to take our guests to a different world when they enter our haunts.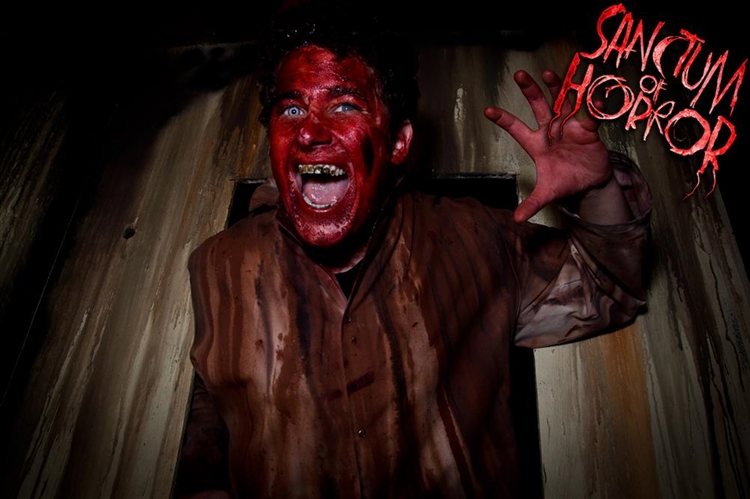 How long has Sanctum of Horror been in business? Can you tell us a bit more about Sanctum of Horror's history?
As a family, we have been in the haunt industry for 11 years. For the first six years, we had a home haunt. We finally decided to take the leap into the professional haunted house industry in 2013. The 2017 season will be our fifth professional year.
What's your favorite experience since opening Sanctum of Horror?
Our favorite part of the haunt is watching satisfied customers come walking or running and screaming out of the haunt. We love having he opportunity to talk to guests once they go through the haunts. We are always eager to get feedback and even constructive comments. We like to hear what our guests enjoyed the most, what scared them, and even what we can improve on. We do this for our guests' entertainment, so it's important for us to know how we can continue to improve and make our haunt the best value for everyone.
How long is a typical haunt experience at Sanctum of Horror from start to finish?
The scares begin the second you walk onto our property. From the time guests buy a ticket and wait in line, they will be entertained by hilarious and terrifying line actors. We have two haunted houses, Sanctum of Horror and The Breach. Sanctum will take guests about 18 minutes to walk through, and The Breach is around 12 minutes. Afterwards, guests are invited to take pictures at our photo booth, visit the merchandise stand, interact with line actors, and participate in special events like palm and tarot card readings.
On a scale from 1 to 10, how scary would you say Sanctum of Horror is? Why?
We would rate Sanctum of Horror as an 8. While we don't claim to be the scariest haunt in the valley, we are arguably the most entertaining haunt in Arizona. Our great reviews speak for themselves. Our main goal is to make sure our guests have a great experience.
Does Sanctum of Horror's property have any real haunted history? Do you have a spooky encounter you'd like to share?
While we don't have any record of hauntings on the property, some of our actors and security guards who are up there late at night claim they have heard and seen mysterious things.
What inspired you to open up a haunted attraction? What's your favorite part of the business?
We have always loved Halloween. After our time as a home haunt and the success we had with that endeavor, we knew the haunt industry was right for us. Our favorite part is creating new sets. We love the process of building something from scratch and turning it into an impressive scene.
How has new technology (i.e. animatronics, special props, etc) helped you to enhance Sanctum of Horror?
Sanctum of Horror and The Breach are full of audio and lighting effects that help immerse the guests in the haunt. We also have in your face and larger than life animatronics that are guaranteed to get your heart pounding as you walk through the maze. We believe those three factors are what make us stand out above other haunts in the state.
Can Sanctum of Horror accommodate large groups? How many people can experience Sanctum of Horror together as a group?
Sanctum of Horror only lets groups of four to six through the haunt at a time. However, we do make accommodations for large parties, company events, club events, and birthday parties. Please contact us through our website about hosting a large event at our haunt. We offer group rates for parties of 12 or more if you contact us at least 24 hours in advance.
Does Sanctum of Horror offer any special deals, discounts, or coupons?
Sanctum of Horror offers $2 off coupons that can be found on our fliers throughout Mesa and on our website. We also offer flash sales on our social media accounts. Follow us on Facebook, Twitter, Instagram, and Snapchat to look out for deals and discounts to come.
Anything else you'd like to let us know about Sanctum of Horror?
We hope to see you for the 2017 Halloween Season. We know you won't be disappointed!
Photo Gallery