Sanctum of Horror is Back for the 2016 Halloween Season with Heart-Pounding Fun!
Home » Blog » Arizona Haunts: An In Depth Look
September 28, 2016 By Haunt News & Press Releases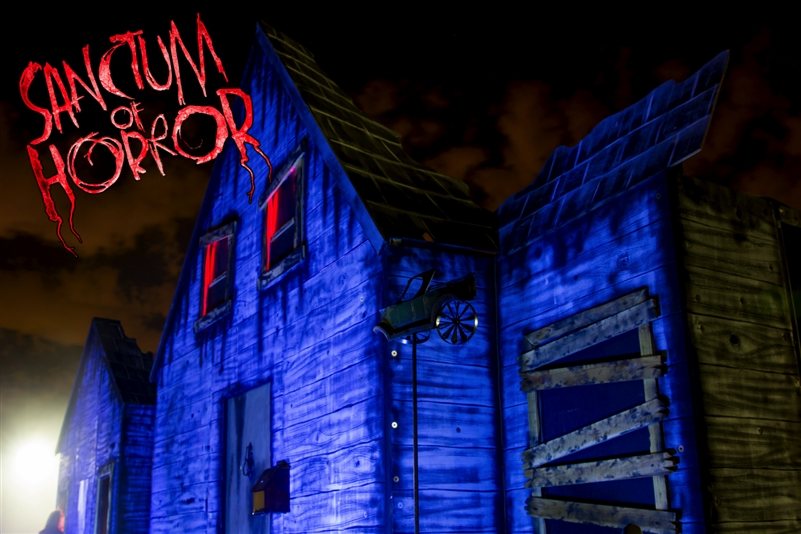 The East Valleys Newest Haunted Attraction
AZHauntedHouses.com recently sat down with Shawn Kaul of Sanctum of Horror, to discuss what's new at Sanctum of Horror for the 2016 Halloween Season! Located in Mesa, this haunt offers its thrill-seeking visitors two different haunted attractions in one great location.
Sanctum of Horror has an all new terrifying attraction for the 2016 Halloween Season - The Breach! Do you have what it takes to brave this military-themed attraction? Not for the faint of heart, this haunted attraction is sure to satisfy the appetite for fright you've had all year long!
What's new at Sanctum of Horror for 2016? Do you have any new rides, attractions, or special features that Haunt Seekers should know about?
We now have a second haunted attraction "The Breach". It is themed around a military bio-science project that goes horribly wrong with the creature "parasite" infecting and killing all lab personnel. It has great sets with incredible detail.
What are you most excited about for the 2016 Halloween Season?
Being able to offer more of a haunt experience for our customers.
What differentiates Sanctum of Horror from other local haunts in Arizona?
We are an outside haunt, which in most cases lacks detail. We put an incredible amount of detail into our sets. Most outside haunt won't do that. We want to be known as the haunt that has the detail that competes with indoors haunts. Many folks that go through our haunt are amazed at the detail. They tell us this every year, and that is why we spend so much time on it.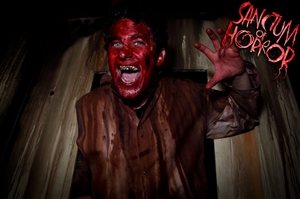 How long has Sanctum of Horror been in business? Can you tell us a bit more about Sanctum of Horror's history?
Only 4 years as a pro haunt, we are the new kids on the block. But we've been home haunters 6 year prior to going professional.
What's your favorite experience since opening Sanctum of Horror?
Setting up and operating a seasonal haunted attraction is very hard and difficult work. I think the experience my family likes the most is seeing our customers, young and old have a great time when they spend an evening with us.
How long is a typical haunt experience at Sanctum of Horror from start to finish?
Depending on the crowd, you will typically get through the Sanctum in 20 minutes and the Breach in 15 minutes. That's not including any line waiting time, and we have a cast of characters that will entertain you while you wait. We want your haunt experience to begin as soon as you pass through our gates.


On a scale from 1 to 10, how scary would you say Sanctum of Horror is? Why?
I would say we are a high 7. But it depends on who's going through it. On many occasions we have had customers, faint, hyperventilate, throw up and wet themselves. So it depends on how freaked out you get when your put into detailed rooms with scent, fog, extreme makeup and over the top actors in your face.
Does Sanctum of Horror's property have any real haunted history? Do you have a spooky encounter you'd like to share?
Well some of us who build the haunt and work late hours joke about hearing things. But no real haunted experience I know about. Probably just getting ourselves worked up.
What inspired you to open up a haunted attraction? What's your favorite part of the business?
My family, hands down. They got together and said, let's open a home haunt. After that, I was hooked and have been going hard ever since. My favorite part is planning for next year with family and close haunt friends, thats the best part.
How has new technology (i.e. animatronics, special props, etc) helped you to enhance Sanctum of Horror?
Sanctum is a haunt that really relies on the actors, as we have limited animatronics. We like that because our actors can change up on the fly, giving our customers a different experience each time. Now the Breach is another haunt altogether and we added animatronics to it because of the theme of the haunt itself.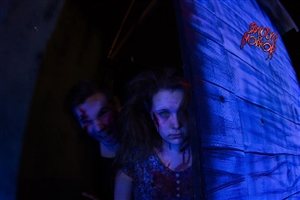 Can Sanctum of Horror accommodate large groups? How many people can experience Sanctum of Horror together as a group?
Pretty much any size group 12 or more we can accommodate. Our opening weekend we had a group that was more than 30. We always see Birthday Party groups of 15 to 20 go through so no big deal there. Just go to our web site and pre register your group 24 hours prior to the night you want to come. We will give you a code that you will take with you and show the ladies behind the ticket booth.
Does Sanctum of Horror offer any special deals, discounts, or coupons?
Yes, go to our web site and you can download a $2.00 off coupon and like us on Facebook, because we are always doing ticket giveaways and contest.
Anything else you'd like to let us know about Sanctum of Horror?
If you're looking for something new to the area, we are it. Come see us again this year and check out our newest haunt The Breach and if you have never been, come check us out. I think you will be very satisfy you did. Hope to see you all soon. Cheers.