Take Part in the Teal Pumpkin Project for Treats without Tricks
Home » Blog » Halloween's Hottest Trends, Little Ghost & Ghouls Corner , Press Releases, Halloween Headlines
September 22, 2015 By Wendy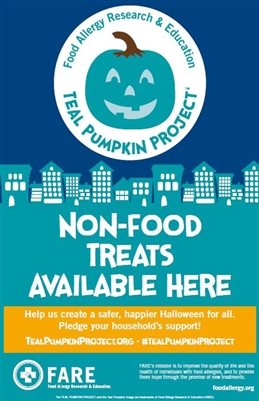 Photo by:
Food Allergy Research & Education
Halloween brings fear not just because of the ghost and goblins, but also because of food allergies. Think about it – Halloween treats like chocolate can contain anything from milk, nuts, eggs, soy, to wheat. If you have a child allergic to any of these ingredients then a lot of extra caution needs to be taken. To ease the uneasiness of Halloween trick or treating for parents and kids with food allergies the Food Allergy Research & Education (FARE) organization is launching again this year the Teal Pumpkin Project.
The Teal Pumpkin Project encourages people to place a teal-painted pumpkin outside their door and to post flyers provided by FARE (available online) to indicate that the Halloween treat given is non-food related, like stickers, toys, etc.
Food allergies can be life-threatening. Take part is ensuring kids enjoy treats without tricks this Halloween season!
Let us know if you'll participate in the Teal Pumpkin Project and what non-food treat you'll be handing out!